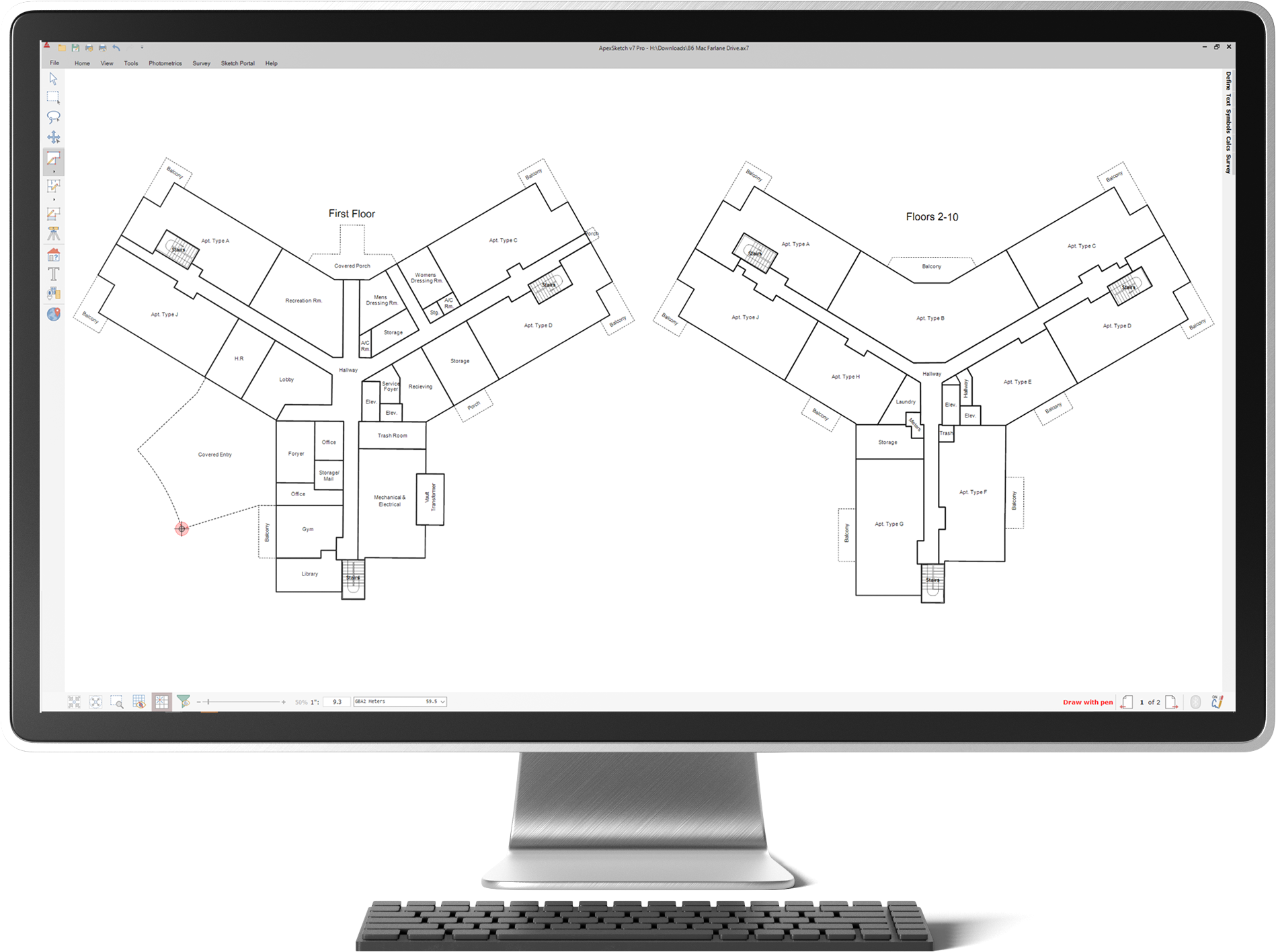 ApexSketch v7 Pro
ApexSketch v7 offers new improvements to the Modern drawing paradigm we introduced in ApexSketch v6 a few years ago that allows you to draw floor plans faster and easier than ever before. And Even though the learning curve is small, we haven't forgotten about the 10s of thousands of users who are familiar with our Legacy Drawing methods we've offered for over 30 years! Apex Software has always been known for its wide range of options that allow you to configure our products to best suit your preferences and workflow. ApexSketch v7 is no exception!
Take Your Pick

Whether you're drawing from your field notes, plans & specs or on site, we have all your sketching needs covered. ApexSketch v7 supports traditional Keyboard & Mouse input as well as Active Pen, Touch and Bluetooth with Leica® DISTO™ Laser Meters. What's even better is this is all included in a single application. No more hassle with managing separate desktop and mobile applications!
Watch this video to see just how much time our Modern Drawing methods can save on every sketch you draw!  Of course, if you wish to stick with the Legacy Drawing methods (ApexSketch v5 and older), you can always do that to.
Modern Drawing Methods
Free Form Drawing Style
Faster Sketch Completion
Aggregate Area Definition
Supports Ink & Touch UI Modes
Legacy Drawing Style
Drawing Process is Similar to ApexSketch v5 and Earlier
New Auto-Complete Feature
Superior Editing Functionality
Complete Floor Plans Faster

Aggregate Area Definition allows you to leverage the existing walls and lines of others areas to create each area of your Floor Plan. With a few clicks of your mouse, you'll complete areas by simply drawing only the lines necessary to complete each shape. The illustration above gives you a quick peek at how this works.
Draw all the line of your floor plan.
In Define Area Mode, simply begin clicking/tapping in areas to select a shape.
Continue to click/tap in adjacent shapes until you are satisfied with the final shape.
Choose the Area Definition and Click/Tap Apply.
Enhanced Photometrics
Photometrics has come a long way since ApexSketch v5 and we've made improvements you're going to love. Appraisers are using Photometrics for so much more than just drawing over plans and specs. Instead of drawing subject properties from scratch, they trace aerial imagery before their on-site visit and then verify/edit their sketch in the field!
Trace over File-based Images, Imagery, Blueprints or Plans & Specs
Better Canvas Control & Image Manipulation
Clipboard (Copy & Paste) Support
Geodata Support(Pro Version)
Save Image with Sketch (Pro Version)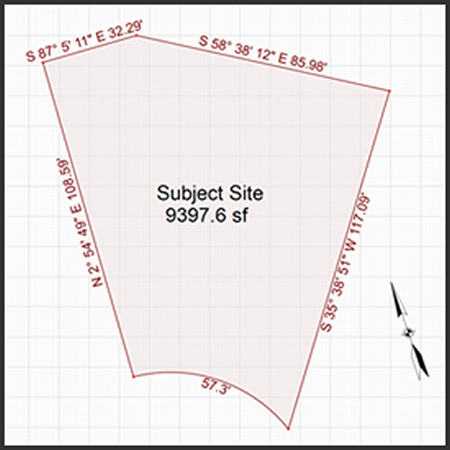 Survey Module
Modern Drawing Methods
Free Form Drawing Style
Faster Sketch Completion
Aggregate Area Definition
Supports Ink & Touch UI Modes
Legacy Drawing Style
Drawing Process is Similar to ApexSketch v5 and Earlier
New Auto-Complete Feature
Superior Editing Functionality