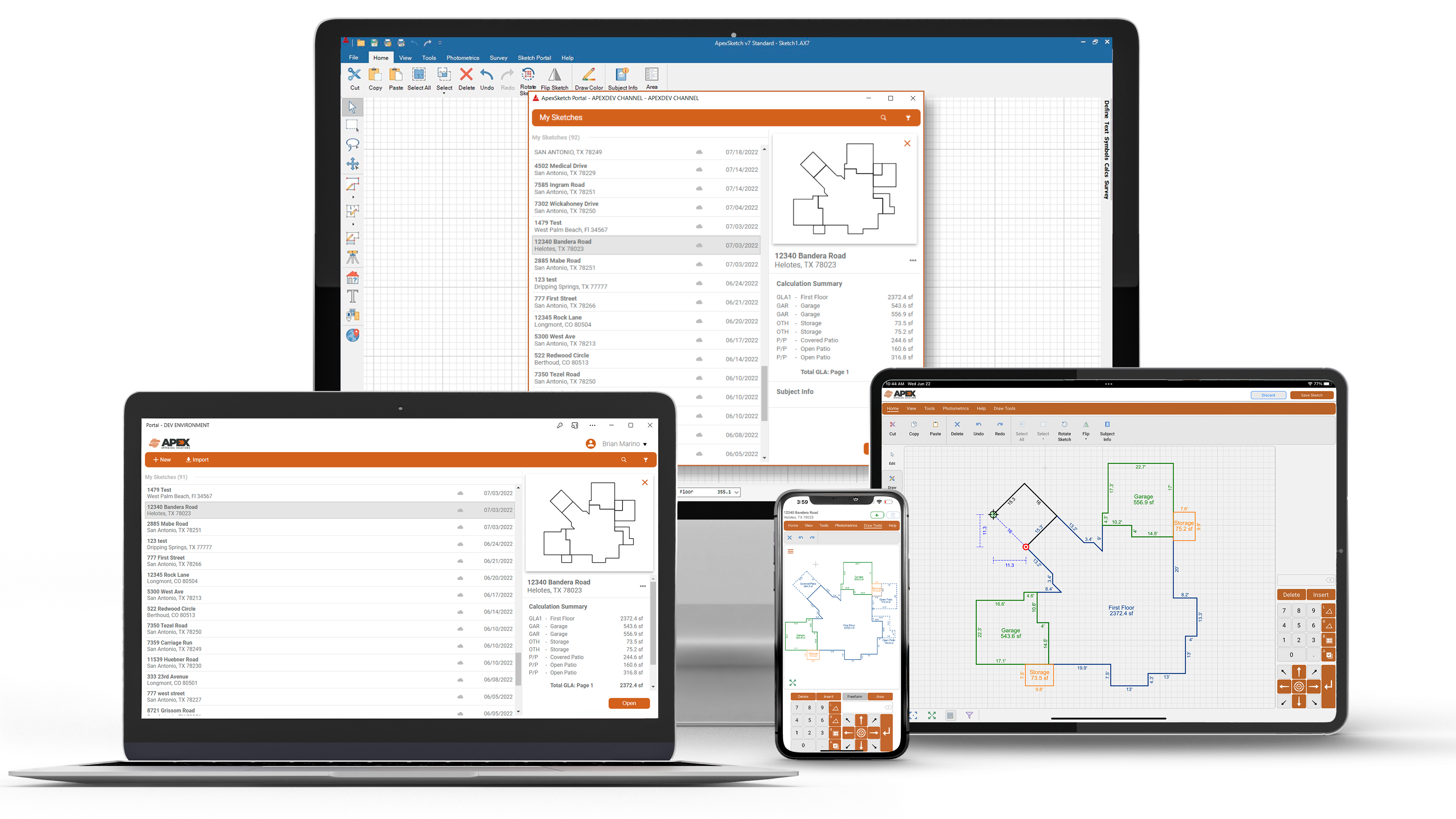 ApexSketch v7 • ApexSketch vX • ApexSketch Portal
Unlock the power of efficiency and convenience with our cutting-edge suite of applications designed specifically for you. Say goodbye to the limitations of your desktop and embrace the freedom of accessing your work from any device, anytime, anywhere. Let us help you take control of your data and streamline your workflow like never before!
Experience the freedom to work on the go, whether you're in the field or at your desk. With our all-new ApexSketch Portal, you can stay connected and in sync, no matter where you are.  You can effortlessly save, sync, and share your data with your colleagues, or simply pass your data back to your favorite forms applications using our tried-and-true integration through ApexSketch v7. Whether you prefer working with your iPad, Android device or from your Desktop PC, our new web enabled solutions work seamlessly on any device you choose. Even if you lose internet connection! No more tedious transfers or manual updates from the field to your desk.
Our suite of sketching tools continue our long history of ANSI Compliance, giving you peace of mind that you'll always meet industry standards.
Stop letting old technology hold you back!  Sign up today for a Free Trial and join the ranks of satisfied appraisers who have discovered the secret to saving time, maximizing their productivity and eliminating data headaches. If you'd like to learn more, give us a call and we'll help you get started today!
ApexSketch Portal
iPad, Android, Desktop
Web Enabled ApexSketch (AvX)
Save • Sync • Share Sketch Data
ANSI Compliant
30 Day Trial
ApexSketch v7 Standard
ApexSketch v7 Standard
ApexSketch Portal Data Sync
Metes & Bounds Survey Module (opt.)
Photometrics (opt.)
ANSI Compliant
Additional Installation
Single Installation ApexSketch v7 Std.
Online Activation on Any PC
Take Your Pick

Whether you're drawing from your field notes, plans & specs or on site, we have all your sketching needs covered. ApexSketch v7 supports traditional Keyboard & Mouse input as well as Active Pen, Touch and Bluetooth with Leica® DISTO™ Laser Meters. What's even better is this is all included in a single application. No more hassle with managing separate desktop and mobile applications!
Watch this video to see just how much time our Modern Drawing methods can save on every sketch you draw!  Of course, if you wish to stick with the Legacy Drawing methods (ApexSketch v5 and older), you can always do that to.
Modern Drawing Methods
Free Form Drawing Style
Faster Sketch Completion
Aggregate Area Definition
Supports Ink & Touch UI Modes
Legacy Drawing Style
Drawing Process is Similar to ApexSketch v5 and Earlier
New Auto-Complete Feature
Superior Editing Functionality
Complete Floor Plans Faster

Aggregate Area Definition allows you to leverage the existing walls and lines of others areas to create each area of your Floor Plan. With a few clicks of your mouse, you'll complete areas by simply drawing only the lines necessary to complete each shape. The illustration above gives you a quick peek at how this works.
Draw all the line of your floor plan.
In Define Area Mode, simply begin clicking/tapping in areas to select a shape.
Continue to click/tap in adjacent shapes until you are satisfied with the final shape.
Choose the Area Definition and Click/Tap Apply.
Enhanced Photometrics
Photometrics has come a long way since ApexSketch v5 and we've made improvements you're going to love. Appraisers are using Photometrics for so much more than just drawing over plans and specs. Instead of drawing subject properties from scratch, they trace aerial imagery before their on-site visit and then verify/edit their sketch in the field!
Trace over File-based Images, Imagery, Blueprints or Plans & Specs
Better Canvas Control & Image Manipulation
Clipboard (Copy & Paste) Support
Geodata Support(Pro Version)
Save Image with Sketch (Pro Version)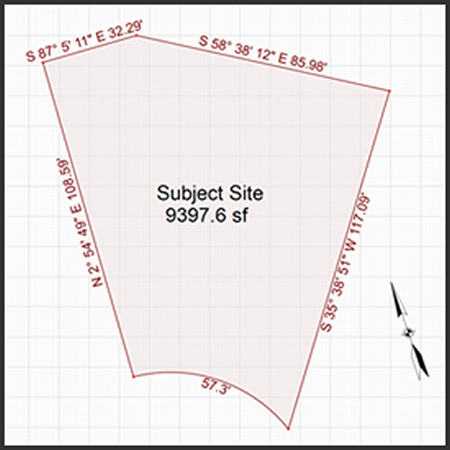 Survey Module
Modern Drawing Methods
Free Form Drawing Style
Faster Sketch Completion
Aggregate Area Definition
Supports Ink & Touch UI Modes
Legacy Drawing Style
Drawing Process is Similar to ApexSketch v5 and Earlier
New Auto-Complete Feature
Superior Editing Functionality